Christmas song O Little Town of Bethlehem: the lyrics and the meaning of the song
Christmas song O Little Town of Bethlehem: the lyrics and the meaning of the song
Christmas carols are a big part of the holiday season. While some people might only know a few of the songs, there are some that seem to be sung more often than others. O Little Town of Bethlehem is one of those songs. A beautifully sung and harmonic song, it certainly get you in the Christmas spirit!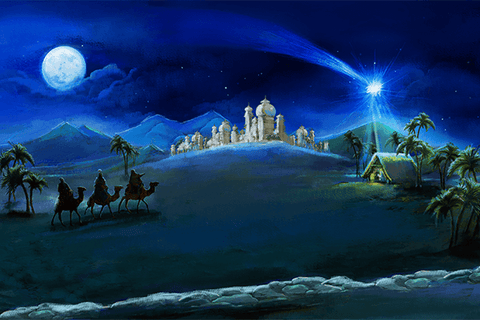 O Little Town of Bethlehem is a beautiful and harmonic Christmas song, and to this day remains extremely popular! It's one that is often heard during the Christmas season, and for good reason. But what do the lyrics really mean? Who wrote and composed the song? Let's take a closer look at the lyrics and see what we can learn.
When was O Little Town of Bethlehem written and composed?
The song Christmas song O Little Town of Bethlehem was written in 1868 by Phillips Brooks (1835-1893), who was a rector at the time. Phillip Brooks was a rector at the church of the Holy Trinity in Philadelphia, Pennsylvania. A rector is a person who has been appointed to oversee and be responsible for the spiritual welfare of a parish.
The original composition was done by Lewis Redner and it is believed that he was inspired by a trip that Brooks had made to the Holy Land. Phillip Brooks traveled to the holy land in 1865, and this is thought to be where he got his inspiration for O Little Town of Bethlehem. He was deeply moved by his experience there and felt a great connection to the place. This is evident in the lyrics of the song, which paint a picture of Bethlehem as a peaceful and idyllic town.
O Little Town of Bethlehem was first published in 1870 in a book called "Hymns for Christmas Eve". The book was published by J.B. Lippincott & Co and contained a total of 12 hymns. O Little Town of Bethlehem was the 10th song in the book.
Since its publication, O Little Town of Bethlehem has been reprinted numerous times and is now one of the most popular Christmas songs. It has also been recorded by many famous artists over the years, including Bing Crosby, Nat King Cole, Mariah Carey, and of course Love to Sing!
The Love to Sing version of O Little Town of Bethlehem is sung in the chord f major, making it easy for people to sing along. The chords are also repeated several times throughout the song so that people can follow along if they get lost. This makes our version of O Little Town of Bethlehem perfect for people who want to join in on the Christmas spirit and sing along to a beautiful Christmas song!
What do the lyrics of O Little Town of Bethlehem mean?
The lyrics of O Little Town of Bethlehem are meant to convey the peaceful and idyllic nature of the town of Bethlehem. The lyrics describe Bethlehem as a place where "the dear Christ enters in", and where "the silent stars go by". This conveys a sense of wonder and awe at the birth of Christ, and the simple beauty of the night sky.
The lyrics also describe how, in Bethlehem, "the strains of heavenly music float o'er all". This speaks to the power of music, and how it can bring people together in peace and harmony. It is this message of peace and love that Phillip Brooks was trying to convey through his song O Little Town of Bethlehem.
In short, O Little Town of Bethlehem is a beautiful Christmas song that speaks to the wonder of the birth of Christ, and the peace and love that can be found in his message. It is a song that has been enjoyed by many for over 150 years, and will continue to be enjoyed for many years to come!
What are the lyrics to O Little Town of Bethlehem?
O little town of Bethlehem
How still we see thee lie
Above thy deep and dreamless sleep
The silent stars go by
Yet in thy dark streets shineth
The everlasting light
The hopes and fears of all the years
Are met in thee tonight

O morning stars, together
Proclaim the holy birth
And praises sing to God the King
And peace to men on earth
For Christ is born of Mary
And gathered all above
While mortals sleep the angels keep
Their watch of wondering love

How silently, how silently
The wondrous gift is given
So God imparts to human hearts
The blessings of His Heaven
No ear may hear His coming
But in this world of sin
Where meek souls will receive Him still
The dear Christ enters in

Where children pure and happy
Pray to the blessed Child
Where Misery cries out to Thee
Son of the Mother mild
Where Charity stands watching
And faith holds wide the door
The dark night wakes, the glory breaks
And Christmas comes once more

O holy Child of Bethlehem
Descend to us we pray
Cast out our sin and enter in
Be born in us today
We hear the Christmas angels
The great glad tidings tell
O, come to us, abide with us
Our Lord Emmanuel!
So this Christmas, as you sing along to all your favorite carols, take a moment to think about what the lyrics really mean. What is each song trying to tell us? O Little Town of Bethlehem is no exception. It's a beautiful reminder that even in the busiest of times, we should be grateful for all the amazing things in our lives that make us happy - especially our families. Merry Christmas!

Subscribe to our Christmas Club and get a free song!
Choosing a selection results in a full page refresh.
Press the space key then arrow keys to make a selection.