Dance to Christmas song Jingle Bells with Easy Choreography
Dance to Christmas song Jingle Bells with Easy Choreography
Looking for an easy dance to do with your kids this Christmas or for your recital?  Christmas is coming, so let's start planning! Our Jingle Bells dances are easy to learn, and even the little ones will love them. Jingle all the way!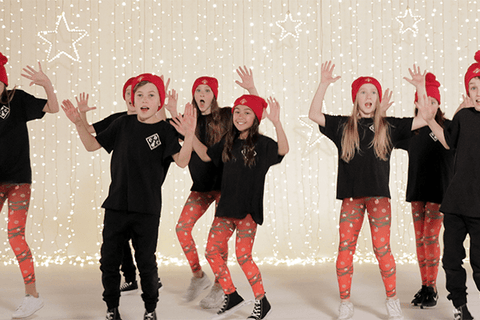 Christmas is coming, which can only mean one thing: recitals! If you're like me, you're frantically looking for a simple dance to do with your kids or students that will let them shine on stage. Our Jingle Bells dances are easy to learn, and all of them have simple dance choreography moves that big and little kids will love. So put on your dancing shoes and grab your bells and get ready to jingle!
What makes Jingle Bells so easy to dance to?
There are a few things that make Jingle Bells the perfect dance song. First of all, it's got a nice, upbeat tempo. This means that even if you, your kids or your students, are just learning how to dance, you can still keep up! The second reason is that the melody is very repetitive. This makes it easy to remember, and also means that you can improvise a little if you need to. Finally, the lyrics are simple and easy to sing along to - who doesn't know Jingle Bells!
Jingle Bells is the perfect Christmas dance song for your next recital, school performance or concert. With the easy choreography and catchy melody, it's sure to get everyone in the holiday spirit!
What dance genre works with Jingle Bells the best?
There's no one specific dance genre that Jingle Bells works best with - it's really up to you! You could do a traditional Christmas ballet, or go for something more modern like hip hop or jazz. The important thing is to have fun and make sure your kids or students enjoy themselves. After all, that's what the holidays are all about!
If you're looking for something a little different, why not try our Jingle Bells hip-hop remix? This version is perfect if you want to put your own spin on the classic Christmas song. With its catchy beat and easy-to-follow lyrics, it's sure to get everyone moving! You can even join in with our dance choreography moves.
Check out all our Jingle Bell dances that kids and students from all over the world love to dance along with for recitals, performances, concerts and at home.
Jingle Bells Christmas Dance Song Choreography
Jingle Bells Christmas Dance with Easy Dance Moves
Jingle Bells Christmas Dance Remix | Hip Hop Dance Choreography
Well, there you have it! Just in time for Christmas too. Now we want to see YOUR versions of the Jingle Bells dance! So get creative and film yourself or your little ones dancing along to our Love to Sing versions of the song. Then share it with us on social media using the hashtag #LovetoSingJingleBells. Can't wait to see all your amazing festive dances!

Subscribe to our Christmas Club and get a free song!
Choosing a selection results in a full page refresh.
Press the space key then arrow keys to make a selection.