Christmas Karaoke Songs You Will Love to Sing
Christmas Karaoke Songs You Will Love to Sing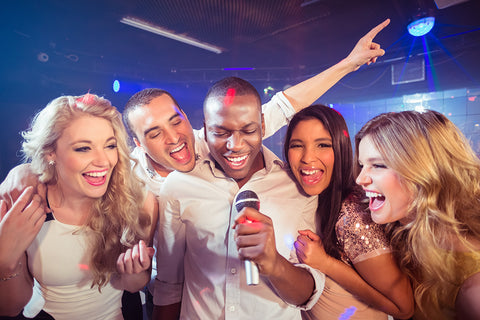 What is Karaoke?
What does karaoke mean? Well the word karaoke is derived from 2 Japanese words, kara comes from the word karappo meaning empty or void and oke comes from the word okesutura or orchestra. So literally karaoke means empty orchestra. 
Where Does Karaoke Come From?
Karaoke is thought to have originated in a Japanese snack bar when the scheduled performer couldn't make the gig. The bar owner had a brain wave - he invited his patrons to sing along with the recorded music that was played.
When Did Karaoke Start?
It is believed that karaoke officially started in the 1970's by Daisuke Inoue who recorded music only songs and sold it specifically so that people could sing along to the instrumental music.  At dinner parties guests would request for Inoue to play his music so they could sing along. At the instigation of a company president who asked for his recordings to share with business clients, Inoue created a tape recorder machine called the Jukebox 8 that played songs when money was inserted.
Karaoke Today
Move forward to today and a Karaoke Box or KTV as known in China, Hong Kong, Taiwan and Singapore, plays instrumental versions of well known songs with the lyrics displayed on a video screen and a moving symbol or changing color to help guide the singer with a microphone.
Karaoke Fact
Quirky fact: "The longest karaoke marathon by an individual lasted 101 hr, 59 min and 15 sec and was achieved by Leonardo Polverelli, at the Astra Caffe, Pesaro, Italy, from 19 to 23 September 2011. Throughout the marathon attempt Polverelli sang a total of 1,295 songs, the event raised funds in support of Telethon." 
Karaoke Philosophy
It could be said that having a few alcoholic beverages may help us to get some Dutch courage to sing karaoke. However it's also helpful that the Karaoke philosophy is that the Japanese have a very non judgmental opinion towards karaoke singers which is why it is so successful! This who cares less attitude of when people are performing karaoke has spread around the world.The global karaoke market is estimated at being worth over $10 billion. 
Karaoke isn't just for those who can sing well, it allows everyone to feel like they can have their Andy Warhol few minutes of fame irrelevant of having a good voice. Couple this with the benefits of singing, yes it makes us feel happy as it releases the same endorphins as chocolate and sex! On a social level when we sing together we feel connected, the audience often can't help but sing along with the karaoke performer.
Karaoke Dream
Let's face it how many of us have harbored a secret dream of being a 'rock star!'  Today there are so many Karaoke singing opportunities: Karaoke Bars, Karaoke Systems to have in the comfort of your home or you can even sing Karaoke online! 
Karaoke Christmas Playlists
Here are some top Christmas Karaoke Songs Playlists to help create a fun time with family and friends:
Share the Karaoke article and Karaoke Christmas playlists with your family and friends on social media!
Check out the Best Christmas Dance Songs with Easy Choreography

Subscribe to our Christmas Club and get a free song!
Choosing a selection results in a full page refresh.
Press the space key then arrow keys to make a selection.