Who is Santa? The Definitive History and Story of Santa Claus
Who is Santa? The Definitive History and Story of Santa Claus
Every year, Santa comes to town and leaves presents under the tree for kids around the world. But who is Santa? Where did he come from? And how did he become such a popular figure? Take a closer look at the history and story of Santa Claus. So put on your elf hats and get ready to learn everything you ever wanted to know about Jolly Old Saint Nick!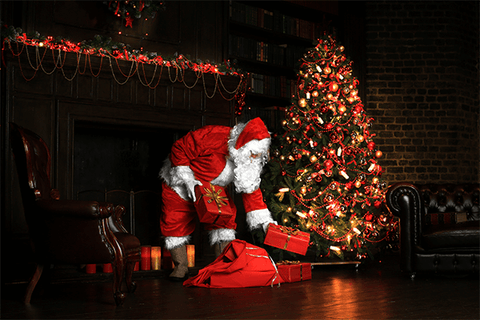 Every year, Santa comes to town and leaves presents under the tree for kids around the world. But who is Santa? Where did he come from? And how did he become such a popular figure? Today, we're going to take a closer look at the history and story of Santa Claus. So put on your elf hats and get ready to learn everything you ever wanted to know about Jolly Old Saint Nick!
Santa has a long history, starting with St. Nicholas
The origin of Santa goes back a long time to the 4th Century AD and is based on a Christian bishop named Saint Nicholas from the city of Myra, in what is now modern-day Turkey. During his lifetime, Bishop Nicholas was known for his generous spirit and acts of kindness towards children, in particular, he presented the three impoverished daughters of a pious Christian with dowries so that prostitution would not be their only option. Throughout the middle ages, Saint Nicholas is portrayed as a bearded bishop in canonical robes - a potential clue for why Santa is depicted as he is today!
A painting of St. Nicholas, by Jaroslav Čermák (1831-1878). | Galerie Art Praha via Wikimedia (Public Domain)
Over the centuries, the Santa story continued to evolve. In the early 1400s, a poet named John Audelay wrote a Christmas carol that mentioned St. Nicholas bringing gifts to children. And by the 1500s, the Dutch, Flemish and Germans had their own version of Santa, called Sinterklaas. Celebrated as Saint Nicholas Day on December 6th, children would often receive small gifts in his honor. The tradition still stands to this day, with children throughout central Europe leaving one shoe out overnight in the hope Saint Nicholas will bestow them another shoe in the morning. This Santa is widely thought to be based on Saint Nicholas, but he also had some unique characteristics, like riding a white horse and carrying a bag of toys.
It isn't until the next century in the 1600s that Martin Luther, a famous German priest, theologian, author, and hymn-writer, propagated the idea of children receiving gifts on Christmas day, instead of Saint Nicholas day. This is due to his role during the Reformation period throughout Europe during the 16th century in which there was a religious and political revolt against the papal authorities that were in power at the time. Martin Luther then proposed Christkind as the bringer of gifts, who is the traditional Christmas gift-bearer for large parts of Europe.
We know Europe loved Saint Nicholas, but how did Santa go global?
As you can see, people during the middle ages loved the idea and spirit of giving, generosity and love. They had Saint Nicholas and numerous other religious figures which encompassed this, but people wanted one figure to represent all. Alas, the idea of Santa was born. The Santa we know today though did not appear for a few more centuries to come.
Harper's Weekly, December 29, 1865; courtesy of the New-York Historical Society via Wikimedia
After residing in Europe for the better part of five centuries, the Santa story finally made its way to America in the 1700s. In 1773, just before the American Revolution, a group of Dutch settlers brought Sinterklaas to New York City. And in 1823, a poem called "A Visit from St. Nicholas" was published in a newspaper. The poem featured many of the same images that we now associate with Santa Claus, including a sleigh, reindeer, and a jolly old man with a white beard. This is the figure we generally see today around the world.
Today, the Santa story is enjoyed by people all over the world. Every year on Christmas Eve, millions of children leave out cookies and milk for Santa to come down the chimney and eat whilst delivering presents. Christmas is a tradition that brings joy to millions of people, and it all started with a simple story about a man who wanted to make the world a little bit brighter, and thanks to a slight refinement from a certain flavored drink brand, he is today recognized as the figure of joy and jolly we all know and love.
Coca-Cola plays a major role in how we depict Santa today
We all know the best way to sell something to someone is to give them an emotional attachment to the product, making them feel they need the product, not just want the product. So, why not attach a product to one of the happiest times of the year that is all about spending time with family and loved ones, generosity, hospitality, and joy!
The Coca-Cola Santa © The Coca-Cola Company 
Whilst Coca-Cola did not invent Santa, their association with Santa all started with an advertisement. In 1931, The Coca-Cola Company launched an advertising campaign featuring a red-suited, white-bearded man we now know as Santa Claus. This image of Santa was created by artist Haddon Sundblom and appeared in Coke ads for over three decades.
Coca-Cola's Santa was jolly and rotund, with a twinkle in his eye and a red nose that matched his suit. The image of Santa they use is based on a mid-1800s drawing by Thomas Nast, which depicts Saint Nicholas from The Night Before Christmas mixed with the all too familiar propaganda imagery of Uncle Sam. Nast's Santa was a fat, happy old man who wore a jacket with stars, striped pants, and a cap. He became so closely associated with Coke that his image is now synonymous with the holiday season. Santa Claus even made an appearance in Coca-Cola's iconic "Hilltop" ad from 1971, in which a group of young people from different cultures came together to sing about peace and love.
While the image of Santa Claus has evolved over the years, he remains an important part of Coca-Cola's advertising during the holidays. Every year, Coke releases a new holiday ad featuring Santa, spreading holiday cheer to people all over the world.
Check out the below 2020 commercial from Coca-Cola! You will see Santa on the side of the truck at the end of the commercial.
So next time you see a Coca-Cola ad featuring Santa Claus, remember that this jolly old man is part of a long tradition of holiday advertising from The Coca-Cola Company.
Why does Santa wear red and white?
The answer to this question is a little bit complicated. Santa's red suit is most likely based on the red robes worn by early Christian bishops. In Dutch culture, Saint Nicholas (Sinterklaas) is often depicted wearing red robes, and it is thought that the tradition of Santa Claus wearing a red suit comes from this. However, it is also possible that Coca-Cola's 1931 ad featuring a red and white suited Santa Claus could have something to do with it as well, as their brand is red and white. No one really knows for sure but he certainly looks fabulous in red!
What does Santa represent today?
With the world becoming changing rapidly and the Christmas tradition becoming more secular, Santa Claus has come to represent different things for different people. For some, he is a symbol of the Christmas holiday and all that comes with it - family, friends, gifts, and good cheer. For others, he is a reminder of a time in which we give thanks to God and celebrate the birth of Jesus. And still, for others, he is simply a jolly old man in a red suit who brings happiness to children all over the world.
Santa represents different things to different people
We think Santa today is a symbol of Christmas cheer and happiness. He is the bringer of presents and good tidings and is loved by people all over the world. Santa represents the spirit of giving, and his image is synonymous with the holiday season.
Santa Claus also reminds us of the joys of childhood and the importance of giving to others. He reminds us that it is better to give than to receive, to be generous and charitable. Santa is also a reminder of the importance of family, and how we should cherish our loved ones during this special time of year.
Santa is a fascinating figure, and there are many different interpretations of who he is and what he represents. To some, he's a bringer of joy and happiness, to others, a symbol of giving and charity. He has become such an important part of Christmas tradition that it's hard to imagine the holiday without him. No matter what your beliefs, it's hard not to appreciate the good that Santa brings into the world. What does Santa mean to you? Is he a jolly old elf who brings presents to good children around the world? A symbol of generosity and love? Or something else entirely? We'd love to hear your thoughts in the comments!

Subscribe to our Christmas Club and get a free song!
Choosing a selection results in a full page refresh.
Press the space key then arrow keys to make a selection.