Chocolate and Peanut Butter Brownie Cookie Sandwich
Chocolate and Peanut Butter Brownie Cookie Sandwich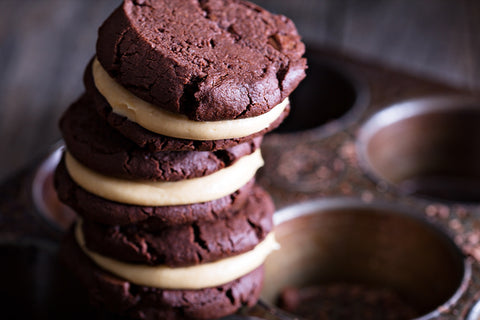 A decadent cookie for chocolate and peanut butter fans! A great addition for your Christmas family feast.
Makes 12 sandwich cookies
Ingredients
Cookies:
1 1/2 cups bittersweet chocolate chopped
4 tablespoons unsalted butter chopped into 3 pieces 
1/3 cup flour
1/2 teaspoon baking powder
1/2 teaspoon salt
2 eggs
3/4 cup sugar 
2 teaspoons vanilla essence 
Peanut Butter Filling:
3/4 cup good quality peanut butter 
3/4 cup icing sugar 
4 tablespoons butter (room temperature)
1/2 teaspoon salt
2 tablespoons full fat cream 
Instructions for Cookies:
Heat and Melt: Gently simmer water in a saucepan - combine the chocolate and butter in a heatproof bowl and heat. Stir the mixture together until melted and smooth.
Sift Dry Ingredients: In a bowl sift flour, baking powder and salt. 
Use a Mixer: Combine eggs, sugar and vanilla essence on a medium speed for 4 minutes until airy and pale.
Gently Fold: Use a rubber spatula to fold the chocolate and butter mixture. Then add the flour mixture. Refrigerate for 10 minutes to make the mixture slightly firm.
Heat: Heat the oven to 180C. Line two trays with baking paper. Scoop one tablespoon of mixture onto the tray 5cm apart. 
Bake: Bake the cookies for 12 minutes until puffed and slightly cracked. Cool down for 5 minutes and the transfer to wire racks to cool completely. 
Instructions for Peanut Butter Filling:
Use a Mixer: Combine peanut butter, icing sugar, butter and salt and beat on a medium speed for 4 minutes until well blended. Add the cream and beat until combined. 
Prepare: Place a cool cookie upside down and spread the filling onto one side. Use another cookie to complete.
If you're feeling extra decadent drizzle some chocolate fudge on top and serve!
Enjoy!
Share this link with family and friends on social media!
Check out Coconut Macaroons with Chocolate Dip

Subscribe to our Christmas Club and get a free song!
Choosing a selection results in a full page refresh.
Press the space key then arrow keys to make a selection.