Christmas Cinnamon Snow Bun Recipe
Christmas Cinnamon Snow Bun Recipe
This Christmas cinnamon snow bun recipe will have you going back for more every time! Simple to bake, delicious and best of all makes an amazing gift for your friends a family. Break bread with your friends and family over a hot cocoa and these yummy Christmas cinnamon snow buns.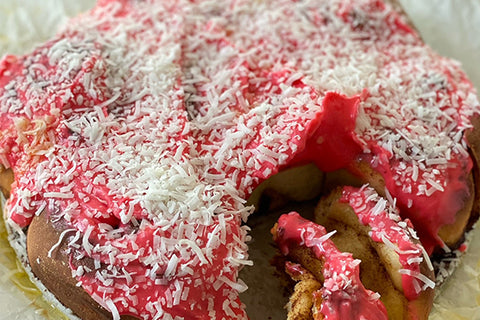 Christmas isn't Christmas without a little spice in our life! We love the traditional cinnamon bun. The smell of spice throughout the kitchen when they are baking is so yummy! But, we thought we would give the cinnamon bun a bit of Christmas flare. Our Christmas cinnamon snow buns are the most delicious cinnamon bun we have tried! The coconut snow also compliments the spice so well. 
Prep time: 2 hours
Cook time: 20-25 minutes
Total time: 2 hours 30 minutes
Ingredients
For the bread:
1 cup warm milk
2 1/2 teaspoons of active yeast or bakers yeast
1/4 cup of granulated sugar
1 whole egg + 1 egg yolk
1/4 cup of unsalted butter at room temperature
3 cups of high grade or bread flour
3/4 teaspoon salt
For the filling:
2/3 cup of dark brown sugar
1 tablespoon of ground cinnamon
1 tablespoon of mixed spice
1/2 cup of unsalted butter, softened
1 cup of raisins
For the frosting and snow topping:
122g cream cheese. Don't use the spreadable one.
3 tablespoons unsalted butter, softened
3/4 cup icing sugar
1/2 teaspoon vanilla essence
A few drops of red food coloring
Desiccated coconut for the topping/snow
Method
Warm milk to around 110 degrees F in the microwave in short bursts of 10-20 seconds. If you don't have a thermometer, put your finger into the milk and if it is roughly the same temperature as your body temperature it is perfect. 
Place warm milk in a mixer or big mixing bowl and sprinkle yeast on top. Add in sugar, egg, egg yolk and melted butter. Mix well and until combined.
Stir in flour and salt with the mixing attachment or wooden spoon until the dough begins to come together.
Place the dough hook on your mixer and knead the dough on medium speed for 8-10 minutes. The dough should into a ball and be slightly sticky to touch. If it is sticking to the bowl, add a fraction of flour and keep mixing. If you don't have a mixer, knead with your hands on a lightly floured benchtop for 8-10 minutes.
Transfer the dough to a lightly oiled bowl, cover with glad wrap/plastic wrap and wet tea towel. Let the dough rise for 1-1 1/2 hours or until doubled in size.
Once doubled in size, transfer the dough to a lightly floured benchtop and roll out into a rectangle roughly 1cm thick. 
Place all the ingredients for the filling into a bowl. Mix well until combined.
Spread the filling over the rolled out dough. Make sure you go right to the corners. Evenly spread the raisins.
Gently roll the dough into a cylinder. Cut into 7 even pieces. You may have to cut off the ends slightly.
Get a 26cm round cake tin and line the bottom with baking paper. I also recommend lightly buttering the sides. Place cinnamon snow buns in. You should get 6 on the outside and 1 bun in the middle. 
Cover with plastic wrap and a wet towel and let the buns rest for 45 minutes or until doubled in size. Preheat oven to 350 degrees F.
Remove plastic wrap and towel. Bake the cinnamon snow buns for 20-25 minutes or until golden around the sides. You want to underbake them a little bit so they steam when resting. This will cook them to perfection.  Allow them to rest for 30 minutes
Make the frosting. Combine all the frosting ingredients in a bowl and mix. Once the buns have rested, spread evenly over the buns.
Spread the coconut over the buns. I like a thick covering of coconut so crazy!
Enjoy! Let us know how you get along and make sure you send us your photos and videos of you and your family eating these delicious Christmas cinnamon snow buns!

Subscribe to our Christmas Club and get a free song!
Choosing a selection results in a full page refresh.
Press the space key then arrow keys to make a selection.