How Does Germany Celebrate Christmas?
How Does Germany Celebrate Christmas?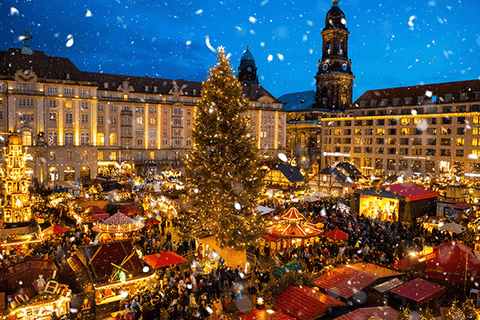 If you're looking for a unique way to celebrate Christmas, look no further than Germany! From the Christkindlmarket places to the festive Christmas trees, Germans know how to get into the holiday spirit. But what exactly do they do to celebrate Christmas? How do their traditions differ from other countries? Keep reading to find out!
How Does Germany Celebrate Christmas Today?
In German, Merry Christmas is 'Frohe Weihnachten'. Christmas Day is called "Erster Feiertag" ('first celebration') and the 26th December is known as 'Zweiter Feiertag' ('second celebration'). This is siminlar to Boxing Day in countries like the United States, New Zealand and Britain.
In German Merry Christmas is 'Frohe Weihnachten'
With the first taste of Christmas just around the corner, retailers begin to roll out their holiday merchandise. This includes Lebkuchen (gingerbread) and Spekulatius (gingery biscuits), which can be found on store shelves every year from September onwards!
Germany is a country full of Christmas cheer, and there are many different ways that Germans celebrate the holiday season. One of the most popular places is to visit a Christkindlmarkt, or Christmas market. These markets are usually set up in town squares and are full of stalls selling festive decorations, handmade gifts, and traditional foods.
According to Wikipedia:
Famous Christmas markets are held in the cities of Augsburg, Dresden, Erfurt, Frankfurt, Nuremberg, and Stuttgart, making them popular tourist attractions during the Christmas holiday season. The Nuremberg and Dresden markets draw about two million people each year; the Stuttgart and Frankfurt markets attract more than three million visitors.

The two most visited Christmas markets in Germany are found in Dortmund, with more than three and a half million visitors of 300 stalls around a gigantic Christmas tree that stands 45 metres (148 ft) tall, and in Cologne with 4 million people. Additionally, the city of Berlin claims more than 70 markets, which open in late November and close just after Christmas.
Of course, Germany loves Christmas trees. It is said that the first ever Christmas tree was decorated in Germany, and since then, the practice has become hugely popular. Germans take great pride in decorating their trees with beautiful lights and decorations, and many people even have a special 'Christmas tree-decorating party' to get into the festive spirit. Fun fact - did you know there are around 25 million Christmas trees sold every year in Germany!
Germany isn't well-known for it's cuisine, however, Germany is know for it's sweet treats and Germans enjoy baking and eating Christmas cookies. There are many different kinds of Christmas cookies, but some of the most popular include gingerbread, spritzgebäck, and lebkuchen. These cookies are often decorated with festive designs, such as snowflakes or holly, and make for a delicious treat during the holiday season.
If you're looking for something a little more unique, you might want to check out the Räuchermännchen. Traditionally built by toy makers in Ore Mountains, these are small figurines that are usually made out of wood and dressed in traditional Bavarian clothing. They are often used as decorations, but they also serve a practical purpose – to spread the scent of evergreens and spices throughout the house by holding burning incense.
What is The History of Christmas in Germany?
The History of Christmas in Germany is believed to have started with the ancient Germanic people, who were some of the first to celebrate the winter solstice. This was a time when they would light bonfires and offer sacrifices to their gods. The practice of decorating homes with evergreens (Christmas tress) is also thought to have originated with the Germanic people, as it was a way to ward off evil spirits.
The first "Christmas tree" is believed to have been decorated in Germany in the 16th century, and the practice quickly caught on. By the 19th century, Christmas trees were being decorated with candles, bells, and decorations made from glass, metal, and wood. It wasn't until the 20th century that electric lights became popular.
It is this rich history stemming from the Germanic people that Christmas has become a celebration for all to enjoy in Germany, where 78% of people don't profess any faith but still participate fully with their families and friends. The decorations you see around town are not just about decoration; they're an expression that this country values family tradition over anything else!
In the early 20th century, many of the traditional German Christmas customs were taken to America by German immigrants. These traditions have since become some of the most popular in the United States, such as decorating Christmas trees, baking cookies, and singing carols.
Santa Claus or Father Christmas (der Weihnachtsmann) brings the main Christmas presents on December 24th. You might also write a letter to Weihnachtsmann in other parts of Germany. Some people say that Santa/Father Christmas (Weihnachtsmann) brings the presents and some say it is Christkind!
St Nicholas day is on December 6th in Germany
As well as hoping for presents from Christkind or der Weihnachtsmann, some children also hope that 'der Nikolaus' will bring you some small gifts, such as sweets and chocolate on the 6th December (St Nicholas's Day). He comes in the night between the 5th and the 6th and puts the presents into the shoes of children, who usually place them by their doors. 
What are Christmas Traditions in Germany?
There are many Christmas traditions that are celebrated in Germany, some of which have been adopted by other countries around the world.
One of the most popular German Christmas traditions is the Advent wreath. This is a circular wreath made from evergreen branches, and it is often decorated with candles, ribbons, and holly. The wreath is placed in the center of the table, and each week leading up to Christmas, one candle is lit. This symbolizes the hope and anticipation of Christ's birth.
Another tradition is the Advent calendar. This is a calendar with 24 small doors, one for each day in December leading up to Christmas. Each door is opened to reveal a small treat, such as a piece of chocolate or a toy. This is a fun way for children to countdown the days until Christmas.
Another popular tradition is the Stollen. This is a fruitcake that is traditionally made with dried fruits, nuts, and spices. It is often covered in powdered sugar or icing, and it makes for a delicious treat during the holiday season.
Germany has tons of Christmas traditions that go back centuries and even differ between each region!

Subscribe to our Christmas Club and get a free song!
Choosing a selection results in a full page refresh.
Press the space key then arrow keys to make a selection.